Frequently Asked Questions
Do you ship to my country?
Attention: We do not deliver to PO Boxes at this time.
We ship worldwide. Shipping price varies depending on your location and is indicated on the Checkout page. Following shipping methods are available:
FedEx International Economy® :European Union (estimated delivery time 3-5 working days), Rest of the World (estimated delivery time 4-8 working days). Price is calculated on the checkout page after you enter your country and postal code.
FedEx International Priority®: European Union (estimated delivery time 1-3 working days), Rest of the World (estimated delivery time 2-5 working days). Price is calculated on the checkout page after you enter your country and postal code.
Express shipping via Express Mail Service (EMS)*: European Union (estimated delivery time 2-8 working days) - 30€. United States of America (estimated delivery time 4-8 working days) - 30€. Australia (estimated delivery time 5-11 working days) - 35€. Rest of the World (estimated delivery time 4-15 working days) - 45€.
*Please be informed that EMS only ships to the following countries: United Arab Emirates, Argentina, Armenia, Australia, Austria, Azerbaijan, Belarus, Belgium, Brazil, Bulgaria, Canada, China, Croatia, Cyprus, Czech Republic, Denmark, Finland, France, Georgia, Germany, Greece, Hong Kong, Hungary, India, Ireland, Israel, Italy, Japan, Kazakhstan, Kyrgyzstan, Macedonia, Malaysia, Malta, Mexico, Moldova, Netherlands, New Zealand, Norway, Poland, Portugal, Romania, Singapore, Slovakia, Slovenia, Spain, Sweden, Switzerland, Thailand, Turkey, Ukraine, United Kingdom, USA, Uzbekistan. If your country is not in the list above, please choose one of the Fedex shipping methods in the checkout page.
Because of legal restrictions we can't ship to Antilles, Cuba, Iran, Iraq, Crimea, Syria, North Korea, Bolivarian Republic of Venezuela, Cambodia, Comoros, São Tomé and Príncipe, Somalia, South Sudan, Sudan, Tajikistan, Turkmenistan, Yemen, Russia, Greenland. All orders originating from these countries will be cancelled without prior notice.
We do not cover customs and duty fees. Customs and duty fees must be covered by the customer.
---
Azeron sent me an email. Is it legit?
Important! Please be aware of our contact information:

Our only website is azeron.eu.
Our official e-mails are info [at] azeron [dot] eu and azeron [dot] keypad [at] gmail [dot] com.
Alternatively you can use contact form on our website: https://www.azeron.eu/support/contact/.
We have only 6 team members, who can be contacted on Discord (https://discordapp.com/invite/9tw9pju ):

@Imants

(Azeron) - Creator status on our Discord server.

@Aļģis

(Azeron) - Administrator status on our Discord server.

@Inga

(Azeron) - Team status on our Discord server.
@pojako (Azeron) - Team status on our Discord server.
@S4nt4 - Customer Support on our Discord server.
We also have voluntary moderators on Discord, who are Azeron Keypad users and active community members. They can answer some of your questions regarding the Keypad, but please bear in mind that they might not have the latest information as they are not a part of our onsite team. But they are very helpful community members and generally a nice people.


@Cardiac - Moderator status on our Discord channel.
@Richkan - Moderator status on our Discord channel.
Anyone else who is contacting you regarding orders from azeron.eu is not part of Azeron. Please do not trust these people.

---
How much does it cost?
The price can be seen in our online store.
---
What payment methods do you accept?
Visa®, MasterCard®, Apple Pay and Microsoft Pay.

---
Which keypad is the most suitable for me?
The Classic keypad was originally made for PC users, while the Compact was made mainly for XIM (console) players. The differences are the way the buttons are positioned on the towers and that Compact has a smaller distance between the pull and the flick keys. Due to the tower size difference, the Compact has two less buttons. But you can use both versions either on a PC or a console.
---
Does this keypad work on a console?
Since the Azeron keypad counts as a keyboard, you will need a XIM device to use Azeron Keypad on a console. More info: https://xim.tech/
---
Does it work with all games?
On PC it works with all games, on consoles it works with games that support keyboard input.
---
Will it fit my hand size?
You can see the maximum and minimum hand sizes here.
---
What colors are changed when choosing the multicolor option?
The multicolor option only impacts the color of the buttons, thumbstick, cords, LEDs and the logo.
---
Does this keypad have a warranty or return policy?
If the device is faulty, we can fix it within 2 years (if it's a new product) or 1 year (if it's a refurbished product) of your purchase. Warranty is void if the keypad has been modified. Please contact us at info [at] azeron [dot] eu before sending the device back for warranty repairs. You can return a new product for up to 30 days or a refurbished product for 14 days from the date we shipped it to you. To get a full product price refund (shipping and priority production excluded), the keypad must be returned in the same condition you received it. More information is available in our Refund and Warranty Policy.
---
How durable is the keypad?
With normal use (no raging, throwing or hitting) it will work for years. Just don't over-tighten the screws. to avoid damaging the threads. There is a small chance that a button switch could be faulty and cause ghost double clicks after a while. The analog stick is the same as in a PS4, so it should work well for a long time. It has worked for us and our friends for more than 3 years with minor wear and tear marks.
---
When will I receive my order?
The current production time can be seen in our web stores product page. Once your order has been handed over to the courier for delivery, you will receive a tracking number for your package. You can see shipping times higher on this page.
---
Do you offer any discounts?
Apart from the coupon codes given out to some influencers, we do not offer any additional discounts due to the huge demand and production queue.
---
Where/how can I buy?
On the Azeron web store.
---
How will I know when there is a new release?
We will let people know a bit in advance. Check back in any communication channel of Azeron (Facebook, Instagram, Reddit, Twitter, YouTube, Discord server) regularly, or subscribe to the mailing list on the azeron.eu website
---
What size should I order?
The medium option is most comfortable for 16cm - 20cm hands, while the large options is best for 20+cm hands. Smaller and bigger hands can use the keypad as well, but comfort may vary.
To pick the correct hand size option, please print the following image on A4 paper and compare your hand to it: Hand sizes.pdf
---
What is the difference between curved and flat palmrest?
Curved: more organic feeling, but your hand is locked into a single position due to the curved shape;
Flat: can change the angle of your hand, but it doesn't have that organic shape.
Note: You can order both palmrests so you can change them out yourself. Extra palmrest costs 30 Euro. You can add it to your cart, while purchasing the keypad.
A side by side comparison flat (foreground) vs curved (background):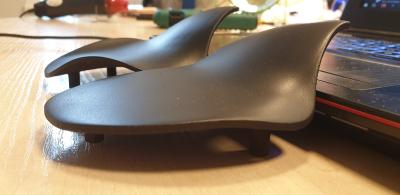 Order wave one palmrest data: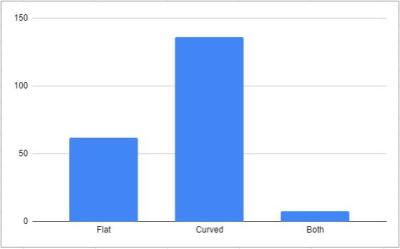 ---
Can I order parts to change length and/or palmrest later on?
At this point, we do not offer to order separate parts, but as soon as we implement it into our online shop, you will be able to do that!
---
What kind of board does it use?
Its a Teensy++ 2.0 board with a mini usb-b port.
---
Does it work for consoles?
This is a 2 part answer.
First answer: If you use something like a XIM adapter, then absolutely, both on xbox and ps4, and the Azeron has been extensively used and tested with the XIM, it even has a specialized firmware just for that.

Second answer: If you are playing a game that allows mouse and keyboard input natively, like fortnite, it should theoretically work, but we haven't done extensive tests on this specifically. One of our reliable users has plugged it in the Azeron in to the xbox directly and after mapping the keys that the xbox is expecting to the desired keys on the Azeron in the app, it worked browsing menus, and SHOULD work fine in fortnite. You'll still have to do all the setup and keybinds for the Azeron on the PC before you plug it back in to the Xbox/PS4. Since we don't have extensive tests on this, there is no guarantee or in depth guides for this. PS4 should theoretically react the same way, but again, we haven't tested this use case extensive enough to provide guarantees here. If you have used it like this, let us know and share your experience.
---
What kind of switches does it use?
It uses Omron D2F-01 microswitches you find in mice rated at 10 million click mechanical durability, so the keys have a clicky feel like a mouse click, not like a keyboard.
---
What's the difference between classic and compact?
Classic has 2 more buttons and was intended mainly for PC, the compact is more suitable if you think you don't need as many keybinds at the same time such as console with XIM, but works totally fine on PC too.
ALSO: The classic has a larger bottom button which makes the space where your fingers are in larger than in the compact as can be seen here: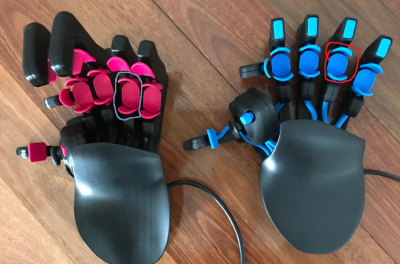 Order wave one classic vs compact distribution: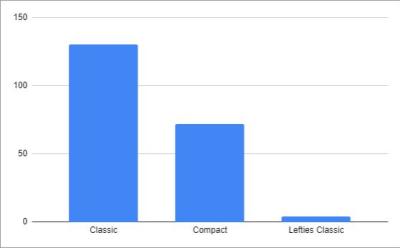 ---
My keypad arrived damaged. What should I do?
If your keypad arrives damaged and you would like to start a claim, please send a photo of damaged package and keypad to info [at] azeron [dot] eu.